Rebates and Incentives for Energy Savings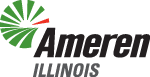 Learn more about rebates, savings and incentives for your home or business.
Find energy efficiency tips, plus access to helpful programs, rebates and cost incentives at Ameren Illinois Savings.
When it comes to energy, actions speak louder than words. That's why Ameren works hard to make sure you have the energy you need. To learn more, visit Ameren Illinois Savings for Home or Business.
For Your Home
Get rebates and discounts on energy-saving projects and products. Plus, explore tips and interactive tools to help you reduce your energy use in every room.
For Your Business
Save now with efficiency incentives for your business, and then realize cost-savings for years to come. No matter what industry you're in, we can help you take action.