Geocomfort Geothermal Systems
Why Geocomfort?
GeoComfort is proud to provide highly efficient, reliable and quiet operating, year-round comfort solutions for your home or business. Our diverse product line offers a solution for any application. GeoComfort Systems are manufactured in the heart of America. Pride in workmanship has been deeply embedded in the culture of our company. Every department places a high value on integrity and complete customer satisfaction. "World Class Service – Hometown Values" is far more than a slogan, it's a way of life.
How much can I save with Geothermal?
The environmental impact of going Geothermal is huge! But it also impacts your pocketbook. How much can you really save? Well, your exact savings will be determined by many variables, such as your climate, thermostat setting, and electric rate, among others. Most homeowners will see a reduction of 30 to 70 percent in their heating and cooling costs.
A study by the U.S. Environmental Protection Agency showed that geothermal systems have the lowest life-cycle cost of all heating and cooling systems currently on the market. Lower maintenance costs and longer life expectancy of geothermal units should certainly be taken into consideration when determining true savings.
Use our Savings Calculator to estimate your own savings!
Benefits of Geothermal Heating & Cooling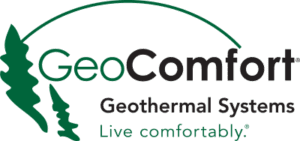 The American Recovery and Reinvestment Act, adopted in October 2008 allows for a 30% tax credit for costs associated with Energy Star qualified geothermal heat pumps.
Click here for Geocomfort's Geothermal Rebate Guide:
Savings Calculator
Use Geocomfort's Savings Calculator to estimate just how much you can save with Geothermal!
Not sure what you need? Call us and let our sales staff work you up a FREE no-obligation estimate based on your own home and your personal needs!