Our Story
Meet Fowler Heating & Cooling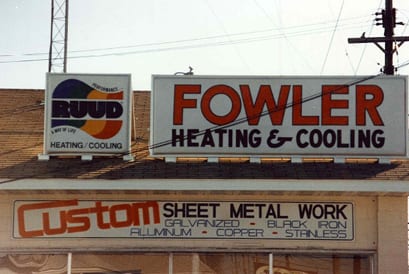 Started in 1979 out of the home of original owners Loran & Carol Fowler, Fowler Heating & Cooling quickly outgrew it's homegrown roots and moved to Marion where it still resides today run by sons Allen & Steve Fowler. While some 40 years later we have become a fully fledged operation with roughly 25 employee's we still try to maintain our mom and pop shop feel by following the simple concept of doing what you say you are going to do when you say you're going to do it and by treating our customers exactly as we want to be treated. By having these attitudes we believe we can give the very best service bar none and look forward to gaining and keeping your business for the next 40 years and beyond!

We proudly provide same day service to our entire service area (expanding about 35 miles around Marion). Our experienced service staff is available to you 24 hours a day 7 Days a week 365 days a year in case of emergency.
Day or night talk to a live person to ensure quick reliable service.
Office Hours
Monday- Friday: 8:00am-5:00pm
40 Years Experience
Family owned and operated since 1979, Fowler Heating & Cooling starting in the home of our first generation and has since expanded into a facility with 20,000 sqft of space that houses a state of the art sheet metal fabrication shop and a fully stocked parts department that serves Southern Illinois river to river.